On 1 August, the Postbus Shuttle starts in seven Upper Austrian communities in Mondseeland and brings 17,000 residents as well as holidaymakers and day visitors a completely new mobility offer.
Leaving the car at home in cities is easy. Buses and trams as well as underground trains and the S-Bahn can be used by people almost around the clock - and usually at short intervals. But even in rural and suburban areas, people are increasingly leaving their private cars in the garage and switching to sustainable alternatives. Switching to public transport is particularly attractive when it is not only convenient and flexible to get from A to B, but above all when the first and last mile to and from the front door can be easily covered. And beyond that, you can travel when you want to, without being tied to fixed timetables.
The Postbus Shuttle combines exactly these requirements and needs of people in just one service. What's more, the on-demand offer from Postbus is as cheap as a public bus. And to book it is as easy as ordering pizza - by app, by click.
Trend-setting concept
29 municipalities in four Austrian provinces are already using the Postbus Shuttle. Now seven more Upper Austrian communities in Mondseeland are following this trend. Since 1 August, 17,000 residents as well as holidaymakers and day visitors have been enjoying a completely new mobility experience.
Do you want to follow this trend as a municipality and offer your citizens an on-demand service from Postbus or do you know of a municipality where the Postbus Shuttle is a must? Then write to us: shuttle@postbus.at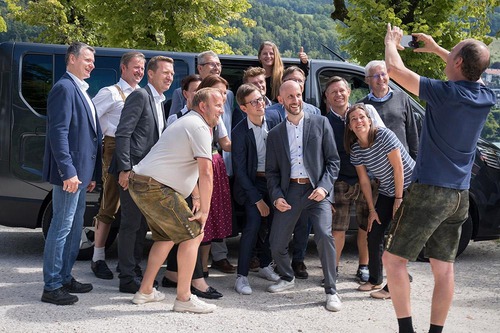 Mehr dazu...