Many parents know the situation when their two-year-old daughter's favourite stuffed animal gets lost, or rather remains sitting alone on the bus, happily continuing the journey through Salzburg while the family has already got off. Panic and despair.
A two-year-old girl from Hallein travelled with her parents and their cuddly bunny on the Postbus to Salzburg. But when they got off the bus, their favourite cuddly toy just stayed put and continued on its own. By the time the loss was noticed, it was already too late and the bus with the stuffed bunny was over the hills. The parents desperately searched for the bunny, the girl was inconsolable. Fortunately, our transport manager Hannes Praniess was on the spot, who was not left alone and rummaged through the Lost&Found office. He found what he was looking for. Our bus driver had handed in the runaway at the lost-and-found office. The joy of reunion was great, the family was reunited and we were enriched by colleagues with big hearts. That's what makes us special!
Additional ride for cordiality
Our bus drivers are there for our passengers. From early in the morning until late at night. Even if this requires an extra trip and the end of the original service is voluntarily postponed. Due to diversions and increased traffic, a connecting bus of a passenger in a wheelchair with destination Pöllau could not be reached in time. Our driver decided - without hesitation - to complete his course and bring the passenger with wheelchair to his destination in his bus. Helpfulness and cohesion are very important to us, especially in challenging times. Traits of humanity are part of our daily corporate culture and attitude to work.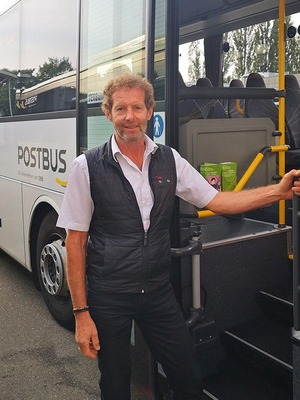 Our drivers are always there for our passengers