We don't have a patent remedy for sustainably reducing CO2 emissions and protecting our climate. But we are all the more pleased about initiatives such as the European Mobility Week, which calls on municipalities and cities to address the issue of sustainable mobility. Postbus was part of it.
The European Mobility Week takes place annually and this year's motto was: "Mix and Move! - climate-friendly mobility". For one week in September, actions and events were held to promote climate-friendly mobility. Communities, regions, educational institutions and companies from all over Austria were invited to participate. Postbus, Austria's largest bus company, was also involved.
Edgar on a journey with the Postbus
During Mobility Week, Edgar, the mascot of European Mobility Week, set out on a journey through Austria to visit best practice examples in the field of "mobility". On his tour, he also stopped by the Postbus and learned about the importance of the bus as an essential component of climate-friendly mobility in the future. Edgar was allowed to come along on a course tour with our Postbus driver Lukas Gruber, who showed him his world and how he ensures every day that the environment is made greener with every journey by bus. He is certainly enthusiastic about the Postbus and bus driving, as he even tried his hand at driving a Postbus himself and is already studying for his bus driver's licence.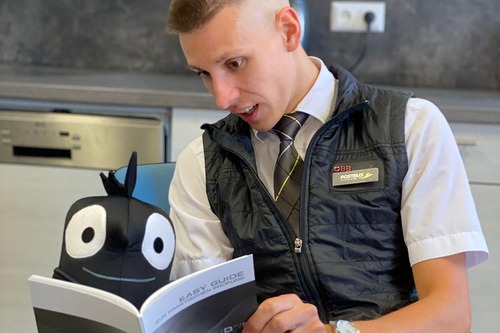 Mascot Edgar leraning for drivers licence